According to Statcounter Global Stats1, Bing had a 1% market share of search engines in India as of September 2022. This is slightly lower than the 1.08% market share it had in September 20212. Bing's market share in India has been fluctuating between 0.9% and 1.2% since 20191. The dominant search engine in India is Google, with a 98.62% market share as of September 2022.
There are some benefits of using Bing over Google, depending on your preferences and needs. Here are some possible advantages of Bing:
1) Bing has a new AI-powered chat feature that can answer your queries in a conversational way, using ChatGPT-like technology1.
2) Bing has a more attractive and customizable homepage that features a different stunning image every day and allows you to change the background color and layout1.
3) Bing has more useful result pages that often include info cards, graphics, videos, and related searches on the right side of the screen1.
4) Bing offers rewards for using its search engine, which you can redeem for gift cards, donations, or sweepstakes entries1.
5) Bing has better video search that lets you preview videos by hovering over them and filter them by length, resolution, source, and date2.
6) Bing has better integration with Microsoft products such as Office, Cortana, and Xbox34.
Bing can provide more relevant results based on your location, device, and personalization settings.
Why you should index your business website on Bing?
Indexing your website on Bing means making it visible and searchable on Bing's search engine. This can have several benefits for your website, such as:
–Increasing your traffic and visibility from Bing users, who may not use Google or other search engines.
–Improving your ranking and relevance on Bing, which may differ from Google's ranking algorithm and criteria.
–Taking advantage of Bing's features and tools, such as Bing Webmaster Tools, Bing Rewards, Bing Ads, and Bing IndexNow.
-Reaching a different audience and market that may prefer Bing over Google for various reasons, such as privacy, personalization, or integration with Microsoft products.
How to index your website on Bing?
Create a Bing Webmaster account and verify your ownership of your website.
–Submit your website's sitemap to Bing Webmaster Tools to help Bing discover and crawl your pages.
–Use the URL submission tool or the URL submission API to notify Bing whenever you create or update a page on your website.
–Monitor your website's performance and analytics on Bing Webmaster Tools and make any necessary adjustments or improvements.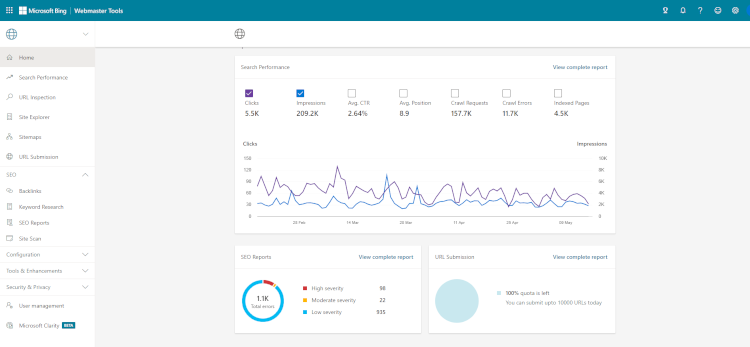 But more or less Google is Google and in India, we are very much familiar with Google and its simple interface. We still like Google however, Microsoft is catching up fast and by 2024 may give competitive Edge because of Chat GPT integration. But who knows, lets wait patiently and see what happens. Right now both the companies are trying to evolve better in AI and advanced technology. Google is also coming with a Bard which will have its own capabilities. In India, as on April 23, we can not access Bard until further updates by Google. So keep in touch and like this blog if you find it informational.
If you want to boost your website ranking on Bing also then you can contact our experts. or write us at [email protected]
Written By


Lyla Phillips
I am a passionate developer with 12+ years of experience. I love to research for solutions to the complex problems. Gaining an experience in Javascript & PHP, i have developed several Web applications and Mobile Apps backend architecture. I love to help others and share it through blog of Synram Technolab. I will keep posting new tech updates or what's new happening in technology industry.